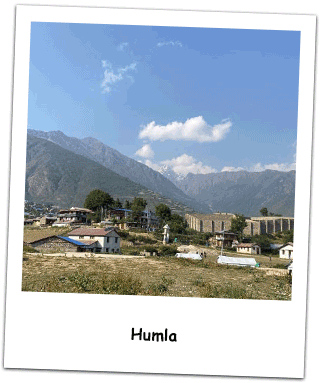 Travel to Humla is an uphill and challenging journey. This remote Himalayan district in Nepal has no surface roads. It takes weeks to reach on foot from the nearest municipality. Shortage of food is also pervasive – many rely on rice transported from the Government to subsidize. As such, communities here have historically faced greater challenges in accessing education, employment, and healthcare facilities – including eye care.
And where there's a need for sight, our team will arrive!
Led by Ram Prasad Kandel, Seva's Program Director in Nepal, we completed a week-long trip to support two surgical eye camps & the establishment of a new Vision Center in the area. He documented the journey in his journal and wanted to share the following pages with you. In his own words, "Honestly, we cried – seven people were blind and one was blind for the past five years. It was the first time they had an eye camp there."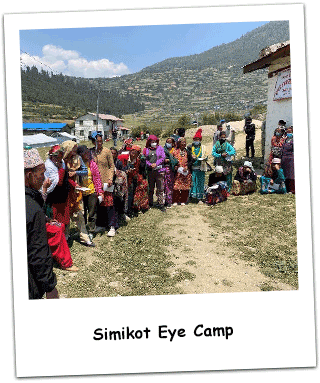 June 7-8 – Simikot, Humla
Day 1 of the first eye camp! our journey began yesterday … we took a late flight from Kathmandu and another one this morning to finally arrive in Simikot (it's very isolated here).
We expected hundreds of people, and the team got to work ASAP. They split into 2 groups … in the morning we screened patients and surgery was conducted after lunch. It was a well-oiled machine … and the smiles from patients were priceless.
In the 2 days, 600 patients were examined and 48 people had operation … one mother let out a HUGE sigh of relief when her bandages were removed … you could see the happiness in her eye. Tomorrow we travel to Namkha for the next camp.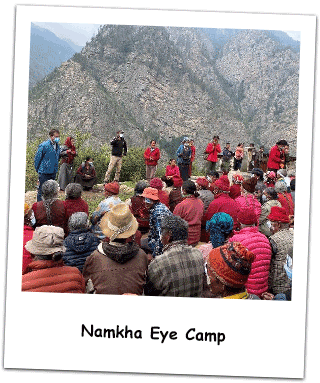 June 9 – Namkha Eye Camp
So much happened in the last 24 hours! Yesterday an ophthalmologist found the surgical microscope was out of order. We were so far away, it was going to be almost impossible to get another one in time … but the team pulled through!
Mr. Nabini, Director of Tilganga which is Seva's new partner in the area & one of the best eye hospitals in Nepal, immediately discussed the concern & the very next day one of the staff ran up with a new surgical microscope. Some may say it's a miracle, but I just call it determination …
After we got the microscope, we left for Namkha … it was a 5 hour journey on very, very (very!) tough roads. (They said we were at 11,000 feet) But it was well worth it – this was the first surgical eye camp held in 15 years in Namkha. Some of the people I met walked for two days from home to reach the center & get eye glasses or an exam. We screened 250 people, operated on 66 and changed many more futures … this is my favorite photo taken …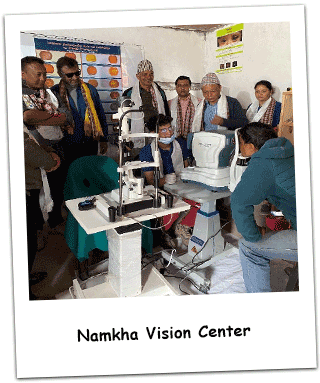 June 11 – Namkha Vision Center
Our last day in Namkha finished with a bang … we attended the inauguration of a new vision center established in the area. Dr. Govinda Poudyal, who conducted many of the surgeries the last few days, gave a speech.
We are so happy to see this VC established – getting to Namkha was an uphill journey, but this center now makes vision care accessible all the time.
This week was life-changing for so many here in Humla. There is truly no gift greater than sight – Seva can reach the most remote places where there was no eye care before.
On to the next!