On a recent Friday morning, Seva hosted a Cyber Synergy Series session with world-class experts – Dr. Larry Brilliant, Dr. Samina Zamindar, and Dr. Lucia Silva, to explain in layman's language what we can expect to see in the coming weeks and months with COVID-19, and how best we can cope with it.
I hope that this recording of the session serves as a valuable reference resource as you plan and work with your own communities to re-emerge from the pandemic.
Below are key takeaways from the webinar that we would like to share with you.
Dr. Larry Brilliant, Seva co-founder, Inaugural Executive Director of Google.org, First CEO of Skoll Global Threats Fund and Chairman of the Board of Ending Pandemics in his inspiring keynote address helped us understand that:
This virus seems to be exploiting the most marginalized and vulnerable communities around the world – migrant workers and slums. We can expect to see a similar phenomenon in other countries as well. Today, we are closer to the beginning of the pandemic than we are to the end.
Dr. Larry Brilliant, Cyber Synergy Series June 12, 2020
There are 4 things happening simultaneously in the USA and most of the world today – the ongoing pandemic, a global economic collapse, the epidemic of racism brought to light again by the recent loss of life of George Floyd and political upheaval around the world centered around the ideology of Nationalism. These are all interdependent, although they seem independent.

Ebola had a very high mortality rate but a low transmission rate while swine flu had a high transmission rate but a low mortality rate. COVID-19 has combined the worst of both. It has a dangerous case fatality rate (5-7% people who test positive lose their lives) and a rapid transmission rate of 2.2 people being affected by every single person affected.

This disease is not following the path of respiratory diseases but is affecting people from nose to toes. We are also seeing the circulatory system being affected and inflammation at later stages of the disease.

The virus is spreading at an exponential rate. But so is the science. We are making colossal advances in antivirals and vaccines. We have 200 candidate vaccines with at least 20 realistic candidate vaccines. 6 vaccines are already in the trial phase. Pharmaceutical companies are also working on developing monoclonal antibodies.

When can we open up again? – That depends on our ability to test so that as we open up, we can close down the virus. We don't know the trajectory the virus will take. It could develop into a cold virus (and become the 5th coronavirus to do so) or it could burn itself out like SARS.

This is not the time to defund the WHO but to work with WHO and other organizations such as the UN, World Bank, and The Global Fund that are working on conquering this pandemic.
Dr. Samina Zamindar, Seva's consultant on Infectious Disease and an early adopter of phacoemulsification cataract surgery, shed light on:
The importance of having a dedicated COVID committee at the hospital that continuously works on improving risk mitigation processes to ensure the safety of staff and patients, and how a coordinator can help make this process more efficient.

Creating and adopting written Standard Operating Procedures for your organization and making them known to all staff. Seva Foundation is supporting Dr. Zamindar's 'starter kit' SOP and will be available on our website at the end of June 2020.

Decision making processes around layoffs, staff exhibiting COVID symptoms, and physical and mental well being of staff.

Communication protocols need to be in place, such as visual aids, phone communications, etc.

How useful ongoing training and quality use of downtime can be during this time.
Dr. Lucia Silva, Medical Director at Seva partner hospital, Visulaiza explained that:
Clinics need to work under the guidelines of their local governments.

It is critical to establish primary protocols for both medical staff and patient safety.

Visualiza and other clinics in Guatemala are also providing their staff with transportation since public transport systems have been shut down.

Innovation is vital to meet the needs of the patients during this time – Visualiza started home delivery of medications, is offering prevention kits for COVID-19, has developed a new platform for teleconsultations integrated with the current system, among others.

Visualiza is using a mobile clinic for patients who currently don't have access to the main clinic.

Together with Seva Foundation, Visualiza is exploring decentralizing their services further – opening smaller tech-enabled clinics to reach more people to lessen the crowding of the main clinic.
To hear more from Larry check out Larry's interview with Ian Bremmer here where you will find additional detailed thinking about COVID.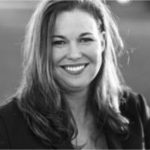 Kate Moynihan is an impassioned leader and decision-maker who has overseen programs in networked organizations and social enterprises in resource-constrained settings, internationally and in the United States. She is a catalyst for institutional and systems change, partnering successfully with diverse international organizations to deliver world-class leadership for mission-based social justice around the globe. Throughout Kate's career, she has shown an unwavering commitment to improving the lives of people living in disadvantaged, marginalized segments of the world. Kate currently serves as Executive Director of the Seva Foundation, a non-profit organization based in Berkeley, California that transforms lives by restoring sight to individuals in areas with limited access to eye care.